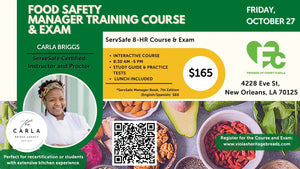 Agenda
8:30 AM - 9:00 AM -Registration
9:00 AM - 4:00 PM  Lecture
1:00 PM - 1:45 PM Lunch Break
3:30 PM Exam Only Participants must be onsite
4:00 PM Exam is administered.
---
Once the exam starts no one will be allowed in the exam room. Most people take 45 minutes to 1 hour to take the exam but you do have up to 2 hours to complete it.
ServSafe Food Safety Manager Course and Exam
Join us for the ServSafe Food Safety Manager Course and Exam, where you can enhance your knowledge and skills in food safety management. This in-person event will take place on Friday, Oct  27 2023 from 08:30:00 GMT-0500 (Central Daylight Time) at 4228 Eve Street, New Orleans, LA 70125.
During this course, you will learn essential concepts and techniques to ensure the safety and quality of food. Our experienced instructors will cover topics such as proper food handling, storage, preparation, and sanitation practices.
By participating in this course, you will also have the opportunity to take the ServSafe Food Safety Manager Exam. This certification is widely recognized in the foodservice industry and can boost your career prospects.
Don't miss this chance to expand your knowledge and become a certified food safety manager. Join us at the ServSafe Food Safety Manager Course and Exam in New Orleans!
Please review the Policies and Procedures for the Course:
We start class promptly at 9:00 AM and will conclude around 5:00 PM.
You can choose to have the book and materials shipped prior to the course date Shipping and Handling is included in the prices. Otherwise you will receive books and materials the day of the class.
A valid I.D.  (Please inquire about options for retesting and rescheduling)
It is preferred that participants read the textbook and review study materials prior to class. In order to be fully prepared for this class, links to an eighty-question practice exam and answer key are provided in your confirmation email.
For this course lunch is included nor provided. Please share any dietary restrictions. Lunch Break Scheduled for 1:00 PM – 1:45 PM
We ask participants to arrive between 8:30 AM and 9:00 AM for registration. If a participant arrives late (after 9:15 am), the instructor will not allow them to enter/take the class.
Should you have any further questions or require any additional information, please don't hesitate to contact us. We are here to assist you in any way we can to facilitate a seamless and successful learning experience .
Thank you once again for considering our ServSafe Food Safety Course. We are excited about the possibility of working with you and contributing to the safety and well-being of your staff and guests. We look forward to hearing from you and assisting you with the enrollment process. If you have any questions, please contact me at (504) 270-1592.
Best regards,
Carla Briggs
ServSafe Instructor and Proctor
Carla Briggs Agency
carla@carlabriggsagency.com